Hlavní strana
>
Zpravodajství
>
Sport
>
Střelba
> 20.6.2019
20. června 2019, 02:33
Článek přečten: 23 krát.
By Mike Searson
Mike reviews the Ruger Redhawk Revolver 357 Magnum from Sturm, Ruger & Co.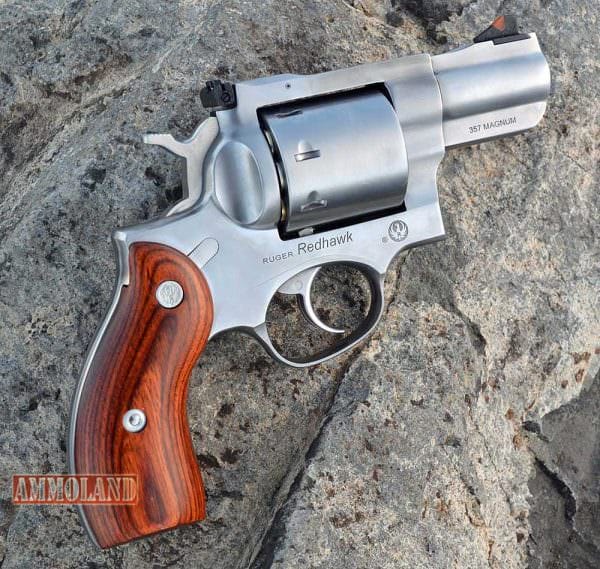 Ruger Redhawk Revolver in 357 Magnum USA –  -(Ammoland.com)- I have always been a big fan of the Ruger Redhawk series. It goes back to 1986 or 1987 when I saw a picture of the Ruger Super Redhawk in 44 Magnum with a stainless steel scope in a "Coming Soon" insert in one of the gun magazines of the day. At 17 years of age, it was the first handgun I wanted to buy when I turned 21. Over the years that exact model eluded me, but I picked up Redhawks in 44 Magnum, 41 Magnum and eventually a Super Redhawk in 454 Casull. So when Ruger announced an 8-shot 357 Magnum Redhawk, I had to take it for a spin. The concept is nothing new, as other revolver manufacturers have been offering increased capacity revolvers in 357 Magnum for decades. However, when Ruger builds a revolver, they build it to last forever. Their earlier incarnations of 6-shot Redhawks chambered in 357 Magnum are certified grail items for most Ruger collectors. We suspect few of those are shot because of their collectability, but this 8-shot holds a lot of promise.
Ruger Redhawk Revolver in 357 Magnum – The Good
Ruger Redhawk Revolver Loaded in 357 Magnum When you open the cylinder for the first time, it looks glorious. It is almost reminiscent of a modern day LeMat cartridge revolver with those 8 chambers. It truly is impressive. The cylinder is cut for
Moon Clips
which will please a lot of people and there is a healthy aftermarket for Ruger Redhawk holsters. So it's not like there will be a huge wait on accessories for the Redhawk. The best part for the moon clip fans is that Ruger includes a few with the Redhawk 357 and you can order more
from the Ruger store
. Due to the revolver's heavy weight and massive size it comes across as an extremely soft-shooting pistol, even with 357 Magnum. The double action trigger is particularly nice; this is something we have noticed on every Redhawk we have fired. They may not have the lightest pull weight, but they are always smooth and consistent. Ours broke at 6 in single action and consistently at 12 in double action. Stocks are an attractive hard wood grip with Ruger medallions inset. This style is common to most Redhawk revolvers.
Ruger Redhawk 357 Magnum – The Bad
Číst celý článek >>>
Levné kožené sedací soupravy, kožené sedačky.
Tweet
Zveřejněte komentář na FB.