Hlavní strana
>
Zpravodajství
>
Alternativní
>
Hlavní události
> 21.10.2019
21. října 2019, 10:58
Článek přečten: 3 krát.
The original Emmy Award-winning Hogan's Heroes was a sitcom set in a WWII prisoner of war camp, its successor, however, focuses on the descendants of the characters who get involved in a global treasure hunt. The show was set in a fictional POW Camp Stalag 13, from which Colonel Robert E. Hogan and his motley crew of expert saboteurs were able to carry out clandestine operations. Adolf Hitler was lampooned in almost every episode. Despite its premise 'Hogan's Heroes' was a top ten hit in the USA where it ran for 168 episodes from 1965 to 1971 on CBS and is still being aired today on cable television. Despite debates over whether a prisoner of war camp was the right setting for comedy it developed a very strong fanbase and was nominated twelve times for Emmy Awards. Two awards were won by Jewish actor Werner Klemperer for his portrayal of Colonel Wilhelm Klink. His character was miraculously unaware of the shenanigans put in play by Hogan and his men, believing that he had an unassailable record as no-one had ever 'officially' escaped.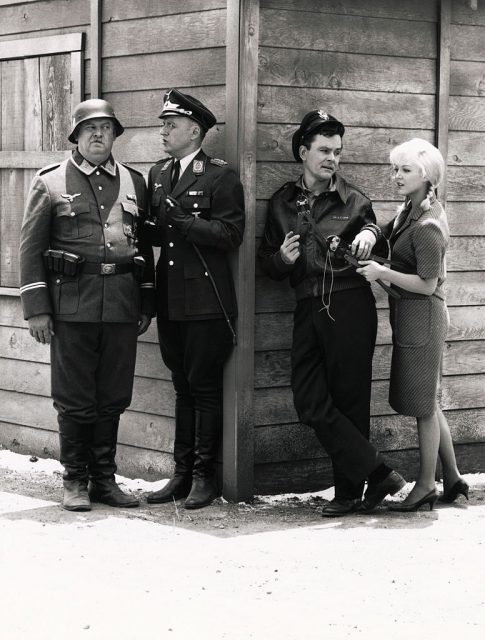 Hogan's Heroes. GETTY In an interview Klemperer said that he only had one condition regarding the role, "if they ever wrote a segment whereby Colonel Klink would come out the hero, I would leave the show." Among the cast were Jews who had survived the Holocaust and made their way to the USA. Cary and Klemperer had seen first-hand what the Nazis had been capable of. Speaking out against criticism of the show Clary defended the writing and the fact that it was a good regular income for an actor. I guess we can't argue with that. One actor, Curt Lowens, who played a Gestapo officer in one episode, is credited with aiding the rescue of 123 Jewish children in Holland when he was part of the Dutch Resistance. He had to flee Germany after his family's synagogue was burned to the ground on Kristallnacht. Only one of the original cast survives today, actor Robert Clary is ninety-three and unlikely to appear in the new show. He played Frenchman Corporal Louis LeBeau. He credits his singing and dancing ability as the one thing that meant he was able to live through his time at Buchenwald concentration camp where he would perform for SS Officers on a Sunday evening, accompanied by an accordionist. It is expected that the new shows connection to the historical hit will resonate with younger viewers who may be nostalgic for something that was likely to have been an appointment-to-view event for their grandparents. Few details have been released by the production companies Village Roadshow Entertainment Group and Rough Pictures, and no comments have been forthcoming from series co-creator Al Ruddy.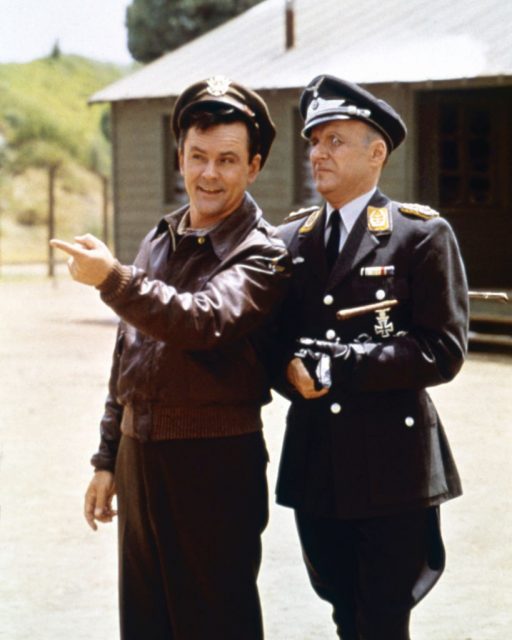 GETTY Ruddy went on to greater things and won Oscars as producer for his work on hit movies, 'The Godfather' and 'Million Dollar Baby'.  Bob Crane, the actor who played Hogan was less fortunate and was found murdered in 1978. His killer was never found. Within the 168 episodes of the show there were many references to the Manhattan Project amongst other secret wartime activities, and spies came and went through a network of tunnels as Colonel Klink received visitors and delegations from the highest levels of the Nazi regime. It is thought that the global treasure hunt may well focus on the international espionage heritage of the show. But until further details are released by the production company we will just have to wait and see. Another Article From Us: The Follow-Up to 'Band of Brothers' is Coming Until then, as Sergeant Schulz might have said, "I see nothing! I hear nothing! I know nothing!" Číst celý článek >>>
Mechanické invalidní vozíky v Ostravě, i zašleme, nejlevněji.
Tweet
Zveřejněte komentář na FB.