Hlavní strana > Videa > Sledujete video "[Millenium] Chrome Shelled Regios 11 [DVD][9A4624FD]"
Sledování a vyhledávaní videí
Video zhlédnuto: 19 krát.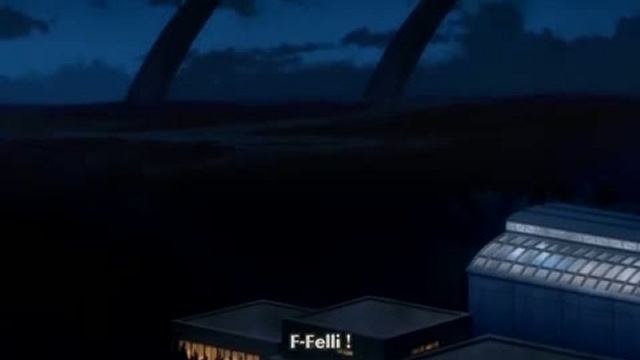 Author: Rhynes
Published: 18.2.2011, 3:05
Duration: 00:23:42

Tweet
Zveřejněte komentář na FB.
Podobná videa.

22.8.2014, 11:15
Filmow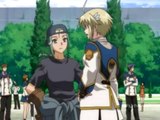 Author:
Filmow
Visited: 954
Duration: 00:03:51
http://filmow.com/gang-que-noregiosu-kokaku-no-regios-t79809 Koukaku no Regios, se passa em um mundo fictício e pós-apocalíptico, do qual humanos vivem em Regios (cidades móveis envolvidas por cúpulas gigantes, guiadas por espíritos conscientes) para se protegerem da poluição, e dos monstros surgidos a partir dela. A história foca-se em Layfon Alseif, um rapaz de quinze anos, que, por algum motivo, é exilado de sua cidade natal, Grendan, onde carregava o título de Tenken (dado somente aos doze mais notáveis lutadores) e ajudava a proteger a cidade, derrotando os monstros que a ameaçavam. Logo em seguida, ele procura por estudos comuns na Cidade Universitária, Zuellni, mas acaba sendo forçado a se juntar ao 17º Pelotão da Ciência Militar, comandado por Nina Antalk. Estando em um pelotão, Layfon, passa a se preparar para competições internas e entre cidades (onde são disputados o Cellunium, minério que move as Regios).
Outras Informações:
Tipo: Anime.
Status: Finalizado.
Episódios: 24.
Duração: 24 minutos, cada.
Exibido: 11/01/09 à 21/06/09.
Gênero: Pós Apocalíptico.
Estúdio: Zexcs.
Musicas:
Abertura: Brave Your Truth por Daisy × Daisy.
Encerramento: Yasashii Uso por Chrome Shelled. 鋼殻のレギオス / Kokaku no Regios Koukaku no Regios

25.9.2013, 15:51
Skuro_matter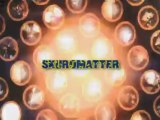 Author:
Skuro_matter
Visited: 153
Duration: 00:03:35
If you have time please visit my friends website: http://www.guideranger.com
Like our facebook page: https://www.facebook.com/pages/SkuroMatter/203366163059913?sk=wall Thank you for the 1700+ Subs Description Below.
Anime Used:
Dragon Crisis
Chrome Shelled Regios
To Aru Majutsu no Index
Fate/Stay Unlimited Blade Works
Tengen Toppa Gurren Lagann
Blazblue
Suikoden Gainden / Gaiden
One Piece
Nurarihyon No Mago
Gantz
Deadman Wonderland
The Epic Of Zektbach
Ben-To
Towa No Quon
Summer Wars
Kurozuka
God Eater
Guilty Crown
Bleach
Sacred Seven
Bakemonogatari
Naruto Shippuden
Freezing
Shin Megami Tensei : Persona 4
High School Of The Dead
Tokko
Dance in the Vampire Bund
C The Money of Soul and Possibility Control
Durarara
Occult Academy
Song: Turn it up By Sonic Syndicate.
Anime Guide:
0:00 Summer Wars 0:02 The Epic Of Zektbach 0:03 God Eater 0:06 Summer Wars 0:19 God Eater 0:21 Sacred Seven 0:23 God Eater 0:26 Gantz 0:32 Blazblue 0:33 Suikoden Gainden 0:35 One Piece 0:41 Tokko 0:42 Kurozuka 0:45 One Piece 0:46 Guilty Crown 0:47 Freezing 0:52 Shin Megami Tensei : Persona 4 0:56 God Eater 0:58 Sacred Seven 0:59 Dance in the Vampire Bund 1:00 Tengen Toppa Gurren Lagann 1:02 Guilty Crown 1:04 God Eater 1:07 Guilty Crown 1:11 God Eater 1:18 Bakemonogatari 1:19 God Eater 1:21 Bakemonogatari 1:23 Guilty Crown 1:28 Shin Megami Tensei : Persona 4 1:36 Bleach 1:41 One Piece 1:46 Durarara 1:47 Chrome Shelled Regios 1:49 One Piece 1:51 High School Of The Dead 1:55 Guilty Crown 1:59 Nurarihyon No Mago 2:06 Bakemonogatari 2:10 Ben-To 2:15 Sacred Seven 2:22 Bleach 2:23 C The Money of Soul and Possibility Control 2:31 Bleach 2:32 Bakemonogatari 2:37 Occult Academy 2:39 God Eater 2:41 Dragon Crisis 2:44 God Eater 3:01 Sacred Seven 3:05 Suikoden Gainden 3:09 Towa No Quon 3:13 Sacred Seven 3:18 Naruto Shippuden 3:20 Bakemonogatari 3:23 To Aru Majutsu no Index 3:24 Deadman Wonderland 3:26 Fate/Stay Unlimited Blade Works 3:29 Kurozuka
Had problem to convert so had to split the amv in 4 parts and putting them together so there a few missed timing.

18.2.2011, 3:05

18.2.2011, 1:48

18.2.2011, 2:19

17.2.2011, 22:19

18.2.2011, 3:37

17.2.2011, 20:36

18.2.2011, 0:12

17.2.2011, 23:29